We celebrate the 25th edition!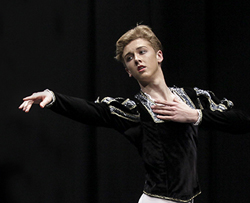 The International Dance Competition, which has reached its 25th edition, it's a great unique and original appointment.
 It is an important moment  for the training of young dancers and future artists.
Under the General Direction of Paolo Boncompagni, the Artistic Direction of  Irina Kashkova and the honorary Preisidency of Alberto Testa, it is a dance event to which young dancers, from all over the world, come and search  for  excellence.
The Competition has grown, edition by edition,   becoming a mouthpiece of the dancers in the world. The last edition, which took place in March 2015, saw represented in Spoleto 14 nations with 355 participants.
This is the only italian event admitted to the Federation Ballet Competitions, wich regroups the most important worldwide ballet festivals, such as:
International Ballet Competition Varna,
International Ballet competition and contest Choreographers Moscow,
International Ballet Competition Concours International de Danse Helsinki,
International Istanbul Ballet Competition,
Korea International Ballet Competition Seoul,
Youth American Grand Prix New York,
Beijing International ballet and Coreographer Pechino,
International Ballet Competition and Contemporary Dance Vienna,
Rudolf Nureyev International Ballet Competition Budapest,
International dance-festival Tanzolymp Berlino,
Russian Open Ballet Competition "Arabesque" Perm,
International "Yuri Grigorovich" Ballet Competition Sochi,
Shanghai International Ballet Competition,
International Ballet  Competition Astana,
International ballet Competition Krasnoyarsk.
Focus on...sezione classica.
Soloists of the classical section will be divided into two groups:
Group A) for pupils coming from schools with no professional aim.
Group B) for pupils coming from professional Academies and from theatres.
The official rules are valid for both the groups: it is enough to specify the chosen one.
Every group will have its winners and the same prizes.
All the finalists will receive a diploma
The first 3 classified in every category of the International Competition of Dance "Città di Spoleto" could participate, without doing a selection, to the "XIII International Ballet Competition and Contest of Choreographers" taking place in Moscow at the Bolshoi (June 2017). The Organization of the Moscow Competition will provide for the board and lodging of the competitors, of their partners (in case of a pas de deux) and the pianist. Flights and entrance-fee to the competition are excluded.
Info: www.moscowballetcompetition.com